Limitations¶
The limitations feature allows you set a limit on how often a notification rule should trigger. A good example is a rule that triggers when a post gets published. If you do not want that rule to trigger again, e.g. if it gets re-published after being reset to draft, you can set a limit of 1 and no second email will be send.
Activation¶
To use this feature, you have to activate it on PSN's option page:

A new tab will appear:
Options¶
Global¶
If you want to use the limitations feature globally on every rule, you can configure that on PSN's options page: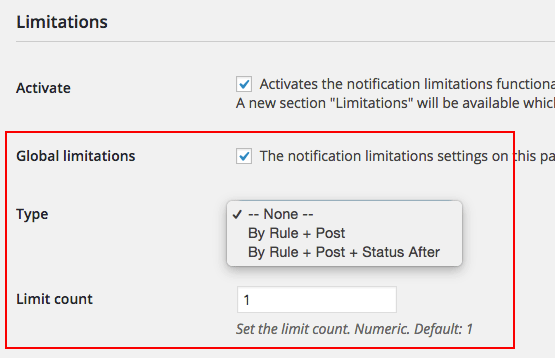 Per rule¶
You can also configure limitations per rule. Check the end of the the notification rule form for the settings "Limitations type" and "Limit count":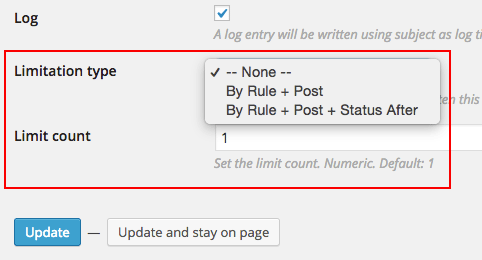 Limitations type¶
There are two options available for limitations type:
By Rule + Post¶
This setting will store a count for a rule and post combination. If the limit is set to 1, the rule will never be triggered again on that post no matter what status the post has.
By Rule + Post + Status After¶
This setting will additionally store the post status after. That means, if the limit is set to 1 and the rule matches multiple statuses after, it will match once for every status after.
Limit count¶
This is how often a post rule combination may trigger. If you leave it blank, the default is "1".
Rule matches log¶
Click in the tab "Limitations" to open the limitations matches log. The list of entries is a representation of the data PSN stores when a rule with limitation setting gets triggered.

You may manually delete an entry to release a rule's limitation on a post.